U9
2020/2021 Information
---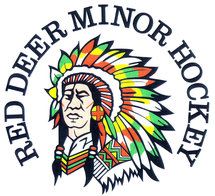 2020/2021 Season start dates and details will be updated as information becomes known.
We are currently in the Hockey Alberta Return to Play Stage 2.
We will will follow Hockey Alberta recommendations for a safe and timely return to the ice.
U9
Timeline:
Player Groupings will be posted to Website under the U9 Tab on October 1st
Evaluation Sessions will be held October 13-15 at the Collicutt Centre
U9-B Teams will be drafted Oct 16 and U9 Teams shortly thereafter (once a sufficient number of head coaches have be identified)
First team practice Oct 17 or 18
Program Details:
Players will participate in one Physical Distance Skill Evaluation Session then be selected to a U9-B or U9 team.
U9 Hockey will initially operate under the parameters of a Sport Cohort
Teams will be paired with one other team for all practices and half ice scrimmages for the foreseeable future.
Should AHS restrictions be relaxed or removed to allow for Cohort expansion, additional teams would be added.
Half Ice Format for Games
2 Minute Shifts
No score is recorded
1 Coach form each team on the ice at each end
Remaining Coaches running the Player Bench and Gates
4 on 4 or 3 on 3 played
All players get an opportunity to play goalie